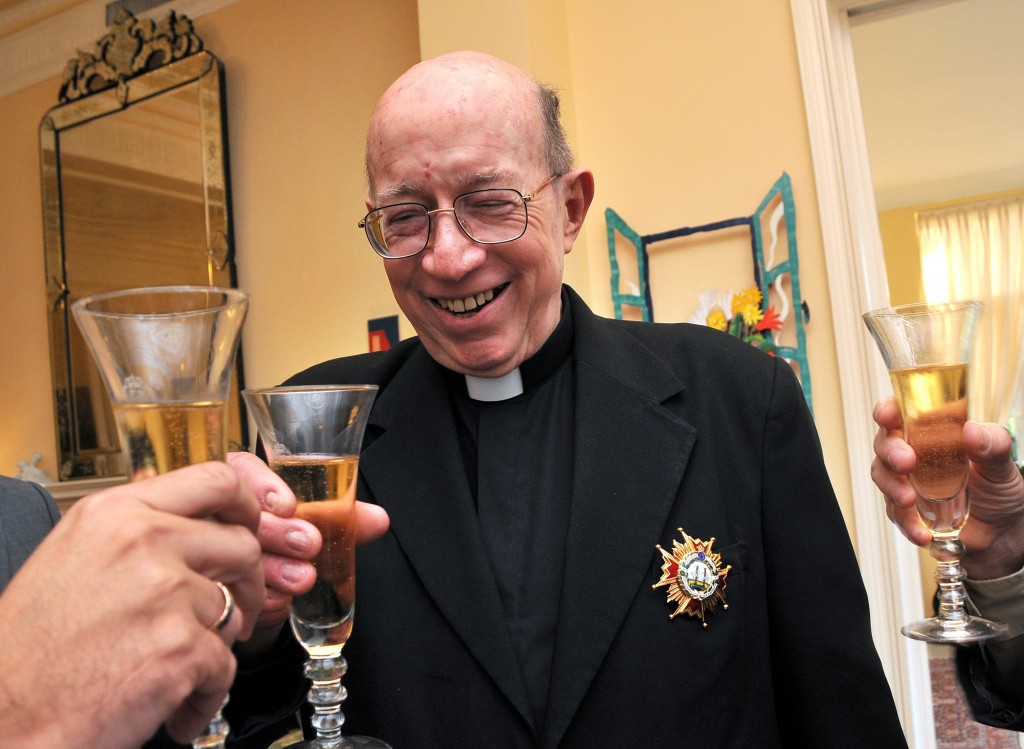 Partly because it was not reported widely, or, indeed, anywhere, and partly because it is impossible to keep a perpetual deathwatch over the thousands of traitors who have destroyed our country over the last 56 years, it is not surprising but entirely explicable that I did not learn until today of Msgr. Carlos Manuel de Céspedes' demise, which occurred on January 14, 2014.
The news, many years after the fact, that a dear one has died in Cuba — an experience common to all exiles — can still be a devastating loss, whether mourned in or out of season. It is not so when an enemy's death catches you unawares. Then you feel that you have been somehow cheated out of the comfort which such news affords; not for that reason, however, would you wish that it were not so.
On his grave, literally, was placed a wreath of flowers from Fidel Castro.
Msgr. de Céspedes has returned the compliment in the only way available to a dead man: he has stated in a posthumously published book,
Monseñor Carlos Manuel se confiesa,
which was presented today at the Havana Book Fair, that he is convinced that Fidel Castro will go to heaven because "he deserves to." Previously, Céspedes had expressed a similar conviction about the sanctity of Ernesto "Ché" Guevara in an op-ed in
Granma
.
This man was once the Vicar General of Havana and President of the Cuban Conference of Bishops.
He would certainly have become the Archbishop of Havana if he had not lived openly and infamously with his boyfriend for many years. A little more discretion, though not much more, is required to occupy that position.
Now, we all know where Msgr. de Céspedes is going; he was preceded there by Guevara and will be followed by Fidel.
But before he disappears completely in a cloud of smoke, let us invoke his hallowed name (the only hallowed thing about him) for one last time:
Bishop Agustín Román Bequeaths $60,000 to Castro's Church
Carlos Manuel de Céspedes III